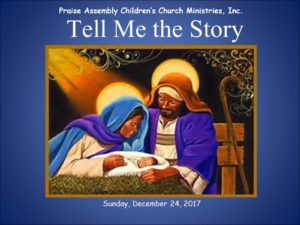 ATTENTION PARENTS!!! It would not be Christmas without our children's Christmas pageant. So we need your child(ren) to participate in a short Christmas program on Sunday, December 24, 2017 during the Sunday Morning worship service. Please help them commit to the rehearsal schedule. All rehearsals will be during Children's Church, and a final Saturday morning. Please have them in Children's Church for the next few Sundays.
Remaining 2017 Rehearsal Dates
Sunday, December 17th @ 9:30 am
Saturday, December 23rd @ 11:00 am
Saturday, Dance Rehearsals
2 p.m. – 3 p.m. Wee Praisers & MITS (Mimes In Training)
2 p.m. – 3:30 p.m. Children Rehearse
2 p.m. – 4 p.m. Youth Rehearse
2 p.m. – 5 p.m. Adults Rehearse
If you would like to become a part of the SPIRIT Dance
Ministry, you can sign up by filling out a form located
on the Information Wall, located in the church foyer.
Y
ou are allowed up to 3 missed rehearsals
Mondays are make up days. For more information
See Sister Leola Day and Sister Teresa Wright for printed schedule